News
More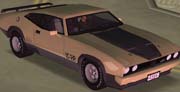 Auch am heutigen Sonntag gibt es einige neue Downloads für GTA3 & Vice City. Darunter einen nahezu perfekt umgesetzten Ford Falcon von Augh. Hier die komplette Übersicht:

CARS:
- 1973 Ford XB GT Falcon Hardtop (GTA3)
- VW Vento Turbo XS (GTA3)

SKINS:
- Shortys Skinpack (GTA:VC)
- Caromaster (GTA:VC)
- Skinpack by Patrick 1 (GTA:VC)
- Predator skin (GTA3)

Die Download-Links findet ihr in den jeweiligen Kategorien bzw. unter "Latest Downloads".
Fill out this formular in order to register on GTAinside. After registration you will get access to additional functions like posting comments and your own favorite mods list! The membership is completely free.
Please fill out the whole formular and don't forget to enter a valid email address to be able to verify your account.