News
More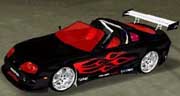 Auch heute haben wir mal wieder ein paar frische Downloads für euch. Darunter drei schöne Cars, eine neue Map und ein Bike. Hier die Übersicht:

CARS:
- Black Supra 3.0 (GTA3)
- BMW M5 E39 Tuned (GTA3)
- BMW M5 E39 Tuned Cabrio (GTA3)

BIKES:
- Honda CR125R (GTA:VC)

MAPS:
- Full City v1.1 (GTA:VC)

Ich hoffe wir können euch damit die Wartezeit bis San Andreas etwas versüßen.
Fill out this formular in order to register on GTAinside. After registration you will get access to additional functions like posting comments and your own favorite mods list! The membership is completely free.
Please fill out the whole formular and don't forget to enter a valid email address to be able to verify your account.