News
More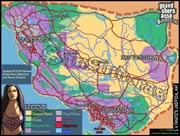 Von Tminus wurde eine äusserst detaillierte und gelungene Karte zu "SanAndreas" angefertigt. Sie zeigt die gesamte Westcoast mit den Städten Los Santos, San Fierro, Las Venturra.
Auch wenn es sich dabei um keine offizielle Map handelt, finde ich sie sehr phantasievoll umgesetzt und deshalb ist sie auch einen Blick wert!

Klickt auf die Karte um zu der vergrößerten Ansicht zu gelangen.
Fill out this formular in order to register on GTAinside. After registration you will get access to additional functions like posting comments and your own favorite mods list! The membership is completely free.
Please fill out the whole formular and don't forget to enter a valid email address to be able to verify your account.