News
More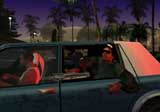 Nach vielen Scans aus Magazinen können wir endlich mal wieder einen "echten" neuen Screenshot aus GTA San Andreas bewundern.

Auf diesem Bild ist erstmals zu sehen, wie ein verschmutztes Auto aussehen wird. Um das Bild in Originalgröße zu sehen, klickt einfach auf die vekleinerte Variante neben dem Text oder geht in die San Andreas Screenshot-Sektion.
Fill out this formular in order to register on GTAinside. After registration you will get access to additional functions like posting comments and your own favorite mods list! The membership is completely free.
Please fill out the whole formular and don't forget to enter a valid email address to be able to verify your account.