News
More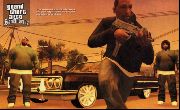 In dem inoffiziellen PlayStation² Magazin "PSM" wurden neben einem Bericht mit einigen neuen Informationen auch sieben neue Screenshots veröffentlicht.

Unter anderem wurden folgende Features bekannt:

Dem Hauptcharakter Carl Johnson werden viele verschiedene Kleidungsstücke zur Verfügung stehen
die Erfahrungspunkteanzeige kann beim Schießen oder Fahren verbessert werden
Es wird möglich sein In-Game Minispiele zu bestreiten
Hollywood wird in San Andreas "Vinewood" heißen
Wie schon des öfteren gesagt worden ist, muss Carl regelmäßig Nahrung zu sich nehmen. Ißt er zu viel, wird er dick; ißt er zu wenig wird er schwach.
Es ist zudem noch möglich sich Muskeln anzutrainieren. Je mehr ihr trainiert desto stärker ist der Charakter in Faustkämpfen. Allerdings nimmt parallel die Sprintfähigkeit ab.
Fill out this formular in order to register on GTAinside. After registration you will get access to additional functions like posting comments and your own favorite mods list! The membership is completely free.
Please fill out the whole formular and don't forget to enter a valid email address to be able to verify your account.