News
More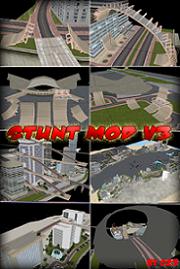 Es gibt wieder einige neue Downloads, darunter auch eine neue Version des Stunt Mods (Bild rechts).

CARS:
- Army Carpack 2

MODS:
- Stunt Mod V3
- New money: Euros

SKINS:
- Alex Flame Skinpack
- Slipknot

Update:
Im Interview mit dem niederländischen Spielemagazin "Power Unlimited" gab Dan Houser, seines Zeichens kreativer Kopf von Rockstar Games und verantwortlich für die Produktion der GTA-Serie, bekannt, dass GTA: San Andreas das vorerst letzte Spiel der GTA-Reihe sein wird. Des Weiteren dementierte er, dass GTA SA einen Multiplayer-Modus enthalten wird, da "Online-Spiele nicht in der Lage sind, einen derartigen Umfang, wie ihn GTA zu bieten hat, umzusetzen" - und somit ist und bleibt GTA ein Single-Player-Game.

Und jetzt wünsche ich allen GTA-Zockern, die jetzt auch noch wach sind, eine erholsame Nacht !
Fill out this formular in order to register on GTAinside. After registration you will get access to additional functions like posting comments and your own favorite mods list! The membership is completely free.
Please fill out the whole formular and don't forget to enter a valid email address to be able to verify your account.