News
More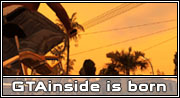 DEUTSCH:
Einige mögen sich in diesem Moment vielleicht gerade Fragen warum im Header nun GTAinside.com | .de steht.
Wir haben uns entschlossen dieser Seite einen neuen Namen zu geben, da GTA3.net einfach nicht mehr passend war. Wir befassen uns nämlich inzwischen schon mit drei Spielen der GTA -Reihe (GTA3, ViceCity, San Andreas) und da wird ein allgemeiner GTA bezogener Name dringend notwendig.
Daher bitten wir euch ab nun die neue Domain GTAinside.de oder GTAinside.com zu benutzen.
Viel Spaß noch und ein schönes Wochenende wünschen euch euer GTAinside -Team

ENGLISH:
Maybe some of you are wondering why it says GTAinside.com | .de in the header.
We decided to give this site a new name, because GTA3.net isn't matching not any more. You see that we deal with three games of the GTA- series (GTA3, ViceCity, San Andreas) in the meantime and there is an universal GTA related name urgent necessary.
That's why we want you to use the new domains GTAinside.de or GTAinside.com from now on.
Have fun and the GTAinside –Team wish you a nice weekend!

Fill out this formular in order to register on GTAinside. After registration you will get access to additional functions like posting comments and your own favorite mods list! The membership is completely free.
Please fill out the whole formular and don't forget to enter a valid email address to be able to verify your account.