News
More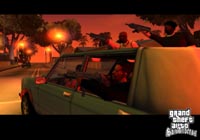 Obwohl Rockstar Games noch vor kurzem offiziell verlauten ließ, dass man zur E3 noch nichts Neues zu San Andreas veröffentlichen wird, hat Rockstar Games auf der offiziellen San Andreas Seite nun die ersten drei Screenshots veröffentlicht.

Die Grafik unterscheidet sich kaum von Vice City und das Ambiente scheint tatsächlich in der Gegenwart zu spielen. Auch die Gerüchte, dass San Andreas im Hip-Hop Business angesiedelt ist, scheinen sich durch die Bilder zu verdichten. Aber schaut einfach selbst. Alle Bilder findet ihr bei den Related Links.

Update:
Ihr findet die frischen Screenshots nun auch auf unserer Seite in der San Andreas Galerie!

Fill out this formular in order to register on GTAinside. After registration you will get access to additional functions like posting comments and your own favorite mods list! The membership is completely free.
Please fill out the whole formular and don't forget to enter a valid email address to be able to verify your account.