News
More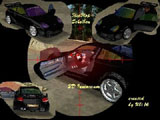 Sonntag = Ruhetag? Oh nein, auch heute habe ich einen Schwung neuer Files für euch hochgeladen. Hier die Übersicht:

CARS:
- Porsche 911 Hamann (GTA3)
- BMW 325i (GTA3)
- Lincoln Town Limousine 1997 (GTA3)
- VW T4 Eurovan VR6 (GTA3)

MODS:
- Max Payne 2 Weapons (GTA:VC)
- Vice Record Studio from Link!n Park (GTA:VC)

MAPS:
- Rattes Mod v1.0 (GTA:VC)

SKINS:
- Bruce Willis Skin (GTA:VC)
- Online Furi NEW (GTA:VC)

Die DL-Links findet ihr in den jeweiligen Kategorien.
Fill out this formular in order to register on GTAinside. After registration you will get access to additional functions like posting comments and your own favorite mods list! The membership is completely free.
Please fill out the whole formular and don't forget to enter a valid email address to be able to verify your account.