News
More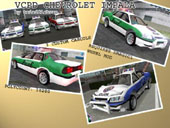 Auch zum Wochenendbeginn sollt ihr natürlich nicht leer ausgehen, und daher habe ich ein paar neue Downloads zusammengestellt.

CARS:
- Chevrolet Impala VCPD (GTA3)

SKINS:
- Tampa Bay Skin (GTA:VC)
- Steve Hawkins Skin (GTA:VC)

MODS:
- Infrarotlaserfernrohr (GTA:VC)
- Age of Mythology, Hintergrund (GTA:VC)
- Gold Python und Katana (GTA:VC)

Viel Spaß damit, die Download-Links findet ihr wie immer in den jeweiligen Kategorien.
Fill out this formular in order to register on GTAinside. After registration you will get access to additional functions like posting comments and your own favorite mods list! The membership is completely free.
Please fill out the whole formular and don't forget to enter a valid email address to be able to verify your account.