News
More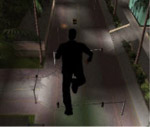 Bald steht der Matrix Online Mod in der Version 5 in den Startlöchern.
Insgesamt warten mit diesem Mod, der in einigen wenigen Tagen erscheinen wird 35 Features und 3 Missionen auf euch.
Neu ist unter anderem auch, dass es möglich sein wird in die aus dem Film bekannte Nebukadnezar zu gehen.
Aber in weiterer Zukunft erwarten uns noch mehr Matrix-Mods, da der Autor bereits "ThE MaTrIx FuSiOnS" angekündigt hat. Dieser soll zusammen mit noch einem anderen Modder entstehen.

Unter Links findet ihr ausserdem noch einen Trailer, der euch schon einige Features vorstellt, die euch erwarten werden!
Weitere Infos, Screenshots, etc findet ihr auf der Homepage. Sobald der Matrix Online Mod 5 raus ist, findet ihr ihn natürlich auch hier.
Fill out this formular in order to register on GTAinside. After registration you will get access to additional functions like posting comments and your own favorite mods list! The membership is completely free.
Please fill out the whole formular and don't forget to enter a valid email address to be able to verify your account.