News
Back


---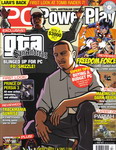 Das australische Magazin
PCPowerPlay
hat auf acht Seiten noch mal alle neuen Screenshots gezeigt und sämtliche bisher bekannten Informationen zusammengefasst. Es gibt leider keine Neuigkeiten für uns, aber der Text hilft die kurze Zeit bis zum 10. Juni zu verkürzen.
Für die australischen Spieler ist es eines der besten bisher veröffentlichten Previews.
Es folgt eine beeindruckende Textpassage aus dem Preview:
"As you walk CJ around you'll see the shadows of over-head power lines fall across his body, as you drive you see lights bounce off the sheen of your car (if it's clean enough) and when you fire your nitroud you see these brilliantly billowing jets of flame."
Hier wird nochmals die Schattenanimation gelobt. Carl Johnson ist, bei gegebenen Lichtverhältnissen, immer von einem brillianten Schatten umgeben. Auch die Fahrzeug-Reflektionen und die Flammeneffekte bei der Lachgaszündung sind erstklassig. Die wunderschönen Animationen auf dem Lack sind allerdings nur zu erkennen, wenn das Auto sauber genug ist ;)
In genau 29 Tagen ist es soweit, dann kann sich jeder persönlich ein Bild von San Andreas machen. Bis dahin erwartet uns noch mindestens ein Trailer, der uns das Wasser im Munde zusammenlaufen lässt...
Recent News
More