The Lost and Damned Gewinnspiel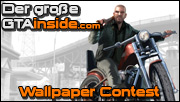 Wallpaper Contest
Mit freundlicher Unterstützung von Rockstar Games veranstalten wir ein "The Lost and Damned" -Gewinnspiel.
Zu gewinnen gibt es folgendes:
| | |
| --- | --- |
| 2 x | jeweils ein "The Lost and Damned" T-Shirt und ein Aufklebe -Skin, das eure Xbox in eine schicke Rocker -Konsole verwandelt. |
Um an diesem Gewinnspiel teilzunehmen, schicke Dein selbsterstelltes Wallpaper zu GTA IV, Lost & Damned oder Chinatown Wars an gewinnspiel@gtainside.com.
Besonders gelungene Exemplare werden zudem in unserer Download -Sektion angeboten.
Bitte in der Email eine gültige Email -Adresse und ein Kürzel/Nickname angeben, unter dem das Wallpaper in der Download -Datenbank erscheinen soll.
Die Teilnahme ist leider nur für Personen möglich, die ihren Wohnsitz in Deutschland haben.
Einsendeschluss ist der 8. Mai 2009.
Diese Seite wurde 2976 mal aufgerufen!